Diabetes Dialogue Map
Diabetes Dialogue Map
The original diabetes dialogue map, developed at Kenichi Yamada Internal Medicine Clinic is an educational tool designed to inspire diabetes patients attending the diabetes education classes at the clinic.
While it is crucial that the patient first needs to recognize various issues he needs to address in order for him to achieve diabetes self-management, the diabetes dialogue map shows nine self-awareness pointers along a gently winding path toward a final goal and works as a visual aid for recognizing the patient's issues.
There is a line of other tools such as a laminated map used as a place-mat during a working lunch in the diabetes classes and a textbook with detailed instructions in correspondence to each of the nine essential self-awareness pointers so as to encourage the patient to work independently.
An English version and a French version of the diabetes dialogue map were created respectively in 2006 and 2010.
Development and Applications of the Diabetes Dialogue Map
Please check our electronic presentation for details of how the diabetes dialogue map came to be and how its use evolved in the diabetes education classes.
creation of the Diabetes Conversation Luncheon Map and its use in diabetes classes
Kenichi Yamada Internal Medicine Clinic
Kenichi Yamada
Michiko Ito (RN)
Miho Osanai (RN)
Machiko Kadowaki (RN)
Toshiko Kinai (pharmacist)
Kumiko Suzuki (clinical technician)
Kumiko Fujita (dietitian)
Kyoko Takahashi (dietitian)
Itsuko Yamada (project manager)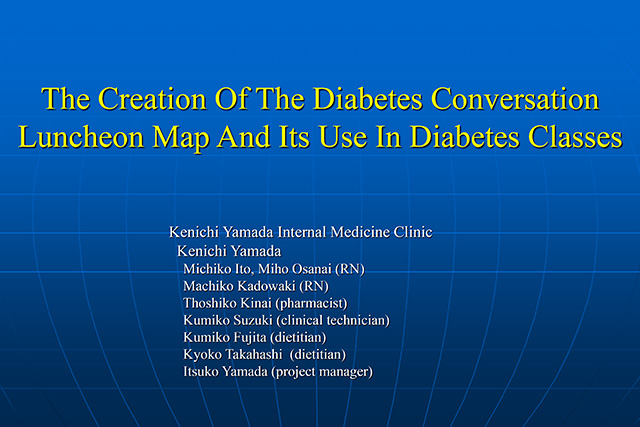 History of the diabetes dialogue map
June, 2006
Participation in US Diabetes Conversation Maps workshop held in Chicago as part of the 66th American Diabetes Association Congress
August, 2006
Creation of own "Diabetes Conversation Luncheon Map" (Japanese and English)
December, 2006
Poster presentation "The Developing Vision of a Small Clinic" at the International Diabetes Federation Congress in Cape Town
November, 2007
Presentation on Diabetes Conversation Luncheon Map at the 45th Japanese Diabetes Studies Congress, Tohoku Region Chapter
May, 2008
Presentation "Diabetes Conversation Luncheon Map and its Evolution Through Use in Diabetes Education Classes" at the 51st Japanese Diabetes Studies Congress in Tokyo
November, 2008
Presentation "Diabetes Education Through Use of the Diabetes Conversation Luncheon Map With an Emphasis on Improvement in the Quality Of Life in Elderly Diabetics With Dementia" in the 46th Japanese Diabetes Studies Congress, Tohoku Region Chapter
May, 2009
Presentation "Individualized Treatment And Education Through Use Of The Diabetes Conversation Luncheon Map" at the 52nd Japanese Diabetes Studies Congress in Osaka
October, 2009
Poster presentation "The Creation and Evolution Of Diabetes Conversation Luncheon Map Including The Intervention Of Recognition Disorder" at the International Diabetes Federation Congress in Montréal
August, 2010
Workshop on the Conversation Luncheon Map organized by the Assal Education Research Center in Switzerland (Grimentz and Geneva). The French version of the Conversation Luncheon Map was created.
December, 2010
Skype discussions with Dr. Jean-Philippe Assal on the potential for further applications of Diabetes Dialogue Map began
May, 2011
Poster presentation "Domestic and International Applications Of the Diabetes Dialogue Map" at the 54th Japanese Diabetes Studies Congress in Sapporo
September, 2011
The 47th EASD and 30th DESG Congresses in Lisbon, Portugal
March, 2012
Case study presentation "Dialogue Map And SMBG Intervention" and meta-plan analysis presentation at the sixth USA-Japan Meeting On Diabetes in Kyoto
May, 2012
Poster presentation "Video Conferences On Diabetes Dialogue Map And Outpatient Applications Of The Map" at the 55th Japanese Diabetes Studies Congress in Yokohama
June, 2012
Workshop on combined applications of PRISM (Pictorial Representation Of Illness And Self Measurement) and the Dialogue Map in Zürich. Participants included Dr. Stefan Buchi, Dr. Jean-Philippe Assal and Itsuko Yamada.
November, 2012
Lecture "PRISM And The Diabetes Dialogue Map" at the 50th Japanese Diabetes Studies Congress, Tohoku Region Chapter
January, 2013
Visit to Canadian Diabetes Association, Victoria Chapter
May, 2013
Lecture "PRISM and the Diabetes Dialogue Map" at the 56th Japanese Diabetes Studies Congress in Kumamoto
August, 2013
Creation of a large-size Kenichi Yamada Clinic Diabetes Dialogue Map (9.95 m2)
September, 2013
DESG Symposium at the 49th EASD Congress in Barcelona
November, 2013
Implementation of the meta-plan on the use of the large-size dialog map to coincide with World Diabetes Day (November 14)
December, 2013
Poster presentation "Joint Approach of Diabetes Dialogue Map and Pictorial Representation of Illness and Self Measurement" at the International Diabetes Federation Congress in Melbourne, Australia
April, 2014
Meta-plan workshop in conjunction with the large-size dialogue map, with participation by Kenichi Yamada Internal Medicine Clinic Patients Association members, the clinic staff members, Kenichi and Itsuko
May, 2014
Presentation "Diabetes Dialogue Map Application Meta-Plans – Approaches to Treatment Guidance From Multiple Viewpoints Of Patients And Medical Professionals" at the 57th Japanese Diabetes Studies Congress in Osaka
August, 2014
Interviews with personnel at Canadian Diabetes Association, Victoria Chapter
September, 2014
50th EASD and DESG Congresses in Vienna, Austria
Lecture "Living with Diabetes – from dialogue to hope –" at the 19th Japanese Diabetes Education • Nursing Conference
May, 2015
Lecture "PRISM Insight Study On Relationships Between Diabetes Patients And Family Members" at the 58th Japanese Diabetes Studies Congress in Yamaguchi
June, 2015
65th ADA Congress in Boston
July 4, 2015
Lecture "Diabetes Patient Education – from dialogue to hope –" at the 31st Kyoto Diabetes Education Research Association in Kyoto
September, 2015
Visit to the University of Hawaii Medical School Nursing Department and Queens Diabetes Education Center
December, 2015
Acted as advisor to poster presentation "A New Approach to the Citizen Participation Awareness Campaign Through Multiple Profession Partnership" for the International Diabetes Federation Congress in Vancouver, Canada
Group discussions with certified diabetes educators in Vancouver, Canada
October, 2018
Guido Ruffino Prize awarded to Itsuko Yamada