Other Activities
Skype™ Conferences
Using Skype™, we talk to our colleagues working in the field of diabetes treatment all over the world.
Through a series of Skype™ discussions with Dr. Jean-Philippe Assal, director of the Foundation and Training in Patient Education in Geneva, Switzerland, we have gained a great deal of insight into diabetes treatment methodologies.
PRISM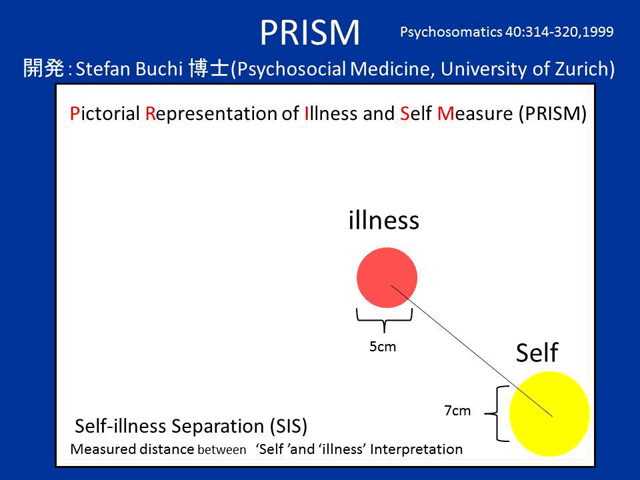 The concept of PRISM (pictorial representation of illness and self measurement), designed by Dr. Stefan Buchi, was initially published in his paper in 1999, which was quickly featured in Nature Magazine.
PRISM is currently available as an iOS application (QR code)
PRISM is highly rated as a useful index that allows the patient to understand how much weight his illness bears on his life in general and represents the sense of distance between the illness and the self. It is highly respected as a useful method that allows medical professionals to evaluate the patient's quality of life.
Our Colleagues And Associates
Dr.

Jean-Philippe Assal

Founder of the first Diabetes Treatment and Teaching Unit at the University Hospital of Geneva, in association with the WHO.
Director in Foundation and Training in Patient Education, Geneva, Switzerland
Professor of Medicine and Therapeutic Education
Founder and Former director of Therapeutic Education Department at the Cantonal
University Hospital in Geneva in association with DESG
Dr.

Stefan Buchi

Professor in Psychosocial Medicine, University of Zurich
Director in Clinic for Psychotherapy and Psychosomatics Hohenegg, Meilen, Zurich, Switzerland
Dr.

Katie Weinger

Assistant Professor in Harvard Medical School
Investigator in Center for Innovation in Diabetes Education, Joslin Diabetes Center, Boston, USA
Dr.

Jane K. Kadohiro

Diabetes Education and Support Consulting Service
Past President of American Association for Diabetes Educators, USA
Dr.

Areti Philotheou

Diabetes Unit, School of Child and Adolescent Health,
Faculty of Sciences, University of Cape Town, South Africa
Dr.

Francois Bonnici

Professor in Department of Paediatric Medicine, School of Child and Adolescent Health, University of Cape Town, South Africa
Past President of World Diabetes Congress(WDC)in Cape Town 2006